November 23, 2015
One of the best things about Fall weekends are football games.Tonight the New England Patriots take on the Buffalo Bills. I can't stand either team, but anytime Rex Ryan faces the Patriots I can't help but watch. It should be a good game. Nothing compliments a good gamesbetter than bar food and beer. Unfortunately, chiseled abs and ripped biceps are not the by product of Gameday snacks.
Note: Ignore all the skinny words. Replace them in your mind with strong.
Here are my Top 5 GameDay Snacks
This is probably my favorite recipe off skinny taste. I could eat these every weekend. 10 Nuggets = 5 points. I'll take 20!
This bad boy is 6 points. I like to dip this in some low fat ranch for an additional 1 to 2 points.
Sometimes you just need some wings. 5 wings at 6 points is a win on any given Sunday.
[rad_rapidology_locked optin_id=optin_4][/rad_rapidology_locked]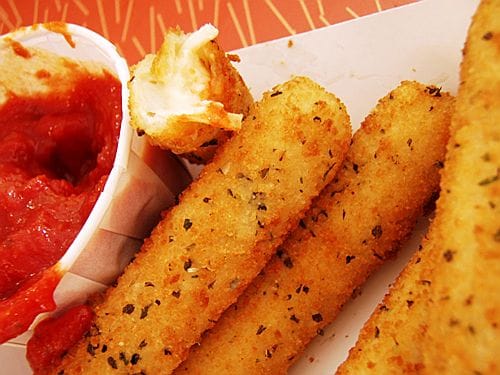 I love some gooey mozzarella sticks without the greasiness. These are on the higher point side at 2 sticks for 4 points but a lot better than the real deal.
Warning: Consumption of entire dish is possible. Steady does it or you will blow all of your beer points. 2 points for 1/24th pan. Go ahead and double up.
Speaking of beer points, what's your go to choice?
November 11, 2015

Just because you need to grab fast food does not mean you need to throw your diet. Here is my Fast Food Cheat Sheet that I use when I'm on the run.
[rad_rapidology_inline optin_id=optin_3]
November 5, 2015
No one likes being on a diet. Mainly because it means there is a long list of foods we enjoy that we can no longer eat. What I have learned most on Weight Watchers is how to structure meals so that I can enjoy the foods I love. If I can eat mac & cheese on a diet, I can probably stick with it. Here's how you can do it too.
Breakfast
Spinach Mushroom Omelette
3 Eggs WWP+ 5
2% Cheese WWP+ 2
Spinach WWP+ 0
Mushrooms WWP+ 0
Snack
Almonds, 1 oz WWP+ 5
Lunch
Turkey Sandwich
Bread, Whole Wheat, 2 slices WWP+ 2
Cheese, Cheddar, Thin Slice WWP+ 2
Turkey, Deli Sliced 2 oz WWP+ 2
Mustard WWP+0
Mayo, light WWP+ 1
Popchips, Original 1 bag WWP+ 2
Snack
Apple WWP+ 0
Dinner
Chicken, Grilled 4 oz WWP+ 3
Green beans, sauteed, WWP+ 0
Velveeta Shells Mac n Cheese, 1/3rd box, WWP+ 9
There you have it. A meal plan that ends with mac n cheese! Total WWP+ 33